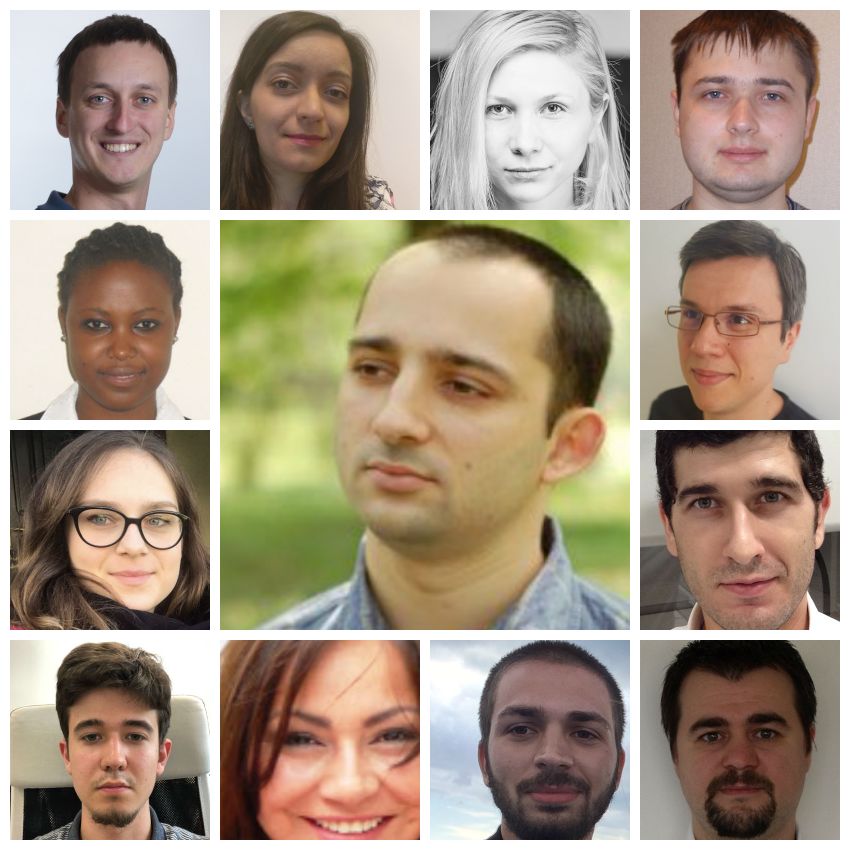 The Systems Biology of Aging Group was founded by Dr. Robi Tacutu in 2016, and is part of the department of Bioinformatics and Structural Biochemistry at the Institute of Biochemistry of the Romanian Academy. The group is currently funded by a recently awarded EUR 1.9 million grant (Romanian/EU co-funded) for the project "Multi-omics Prediction System for Prioritization of Gerontological Interventions".
The main areas of interest in the group include studying biology of ageing/biogerontology, systems biology and bioinformatics, overall the expertise required to acheive these spanning multiple research fields (from bioinformatics to synthetic biology).
With a highly multi-disciplinary team, the projects tackeled by the group include both computational aspects (data aggregation and processing, multi-dimensional data analysis, network-based methods, systems theory approaches, deep learning, etc.) as well as wet-lab experiments (in particular in-vivo testing of the computationally predicted interventions).
. Targeting EDEM protects against ER stress and improves development and survival in C. elegans. PLoS genetics, 2022, 18(2):e1010069.IF=5.90
. Small molecules for cell reprogramming: a systems biology analysis. Aging, 2021, 13(24):25739-25762.IF=5.68
. Knock-down of odr-3 and ife-2 additively extends lifespan and healthspan in C. elegans. Aging, 2021, 13(undefined).IF=5.60
. Learning flat representations with artificial neural networks. Applied Intelligence, 2021:2456–2470.IF=5.09
. Machine Learning Analysis of Longevity-Associated Gene Expression Landscapes in Mammals. International journal of molecular sciences, 2021, 22(3).IF=4.56
. Systems biology analysis of lung fibrosis-related genes in the bleomycin mouse model. Scientific reports, 2021, 11(1):19269.IF=4.38
. Phenotypic assessment of liver-derived cell cultures during in vitro expansion. Regenerative medicine, 2021.IF=2.59
. The effect of liver donors' age, gender and metabolic state on pancreatic lineage activation. Regenerative medicine, 2021.IF=2.59
. A multidimensional systems biology analysis of cellular senescence in aging and disease. Genome biology, 2020, 21(1):91.IF=10.81
. Gray whale transcriptome reveals longevity adaptations associated with DNA repair and ubiquitination. Aging cell, 2020, 19(7):e13158.IF=7.24
. SynergyAge, a curated database for synergistic and antagonistic interactions of longevity-associated genes. Scientific data, 2020, 7(1):366.IF=5.54
. MetaboAge DB: a repository of known ageing-related changes in the human metabolome. Biogerontology, 2020, 21(6):763-771.IF=3.77
. LRRpredictor-A New LRR Motif Detection Method for Irregular Motifs of Plant NLR Proteins Using an Ensemble of Classifiers. Genes (Basel), 2020, 11(3):286.IF=3.33
. Human Ageing Genomic Resources: new and updated databases. Nucleic acids research, 2018, 46(D1):D1083-D1090.IF=11.15
. Wide-scale comparative analysis of longevity genes and interventions. Aging cell, 2017, 16(6):1267-1275.IF=7.63
. Handbook of the Biology of Aging in Integrative Genomics of Aging, 2021(6), Academic Press, Elsevier:151-171.
. Explaining Health Across the Sciences in Healthy Biological Systems, 2020(5), Springer, Cham:53-78.