Norica Nichita, Dr.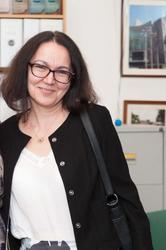 Department:
Viral Glycoproteins
Head of Department, Deputy Director
Research interests: HBV/HCV interaction with the host cell and development of improved antiviral strategies.
Biography
Dr. Nichita received her PhD at the Institute of Biochemistry in 2000, working on the role of N-glycosylation on protein folding. This study was performed in close collaboration with the University of Oxford, where she spent 3 months/year working in the Department of Biochemistry (1997-2000, as a beneficiary of a NATO fellowship). Dr. Nichita has shown for the first time the strict dependence of a cellular protein, tyrosinase, on the presence of N-linked glycans for native folding and biological activity.
Following the award of a Royal Society Fellowship, Dr. Norica Nichita started her post-doctoral studies at the University of Oxford in 2000. Using her competence in protein folding, she investigated in premiere the biosynthesis and assembly of the envelope proteins of a pestivirus - BVDV (used at the time as a surrogate model for HCV) and the possibility to use these host cell- dependent processes as novel antiviral targets.
In 2001, Dr. Nichita was the recipient of an International Research Development Award from the Wellcome Trust (UK), to start an independent group (the Viral Glycoproteins) and establish a completely new direction of research (molecular virology) at the Institute of Biochemistry in Romania. The results obtained by the group during 2001-2003 have clarified molecular features of pestivirus morphology, have answered how these properties could be exploited to design new therapeutic strategies targeting the envelope proteins and were published in important peer-reviewed journals in the field. As recognition of the impact of her work on pestiviruses, Dr. Nichita received the "Emanoil Teodorescu" prize of the Romanian Academy in 2003. These achievements and the ongoing collaboration with the former laboratory at the University of Oxford have secured the award of a second Collaborative Research International Grant from the Welcome Trust (2004-2008) as well as an IDEI grant from the Romanian Ministry of Education and Research-UEFISCDI (2008-2011) to extend the investigation of protein folding and viral morphology to the Human Hepatitis B virus (HBV). The group has also focused on prophylaxis antiviral strategies, owing to the award of a EEA grant developed together with Norwegian partners from NIBIO, aiming to develop novel HBV and HCV antigens in plants (2014-2017).
During these 15 years of research on hepatic viruses, Dr. Nichita and her team have been investigating the life-cycles of HBV and HCV and their interaction with the host cells and have significantly contributed to the discovery of novel cellular targets for alternative antiviral strategies against these human pathogens.

Dr. Nichita was a member of the Romanian National Research Council and the President of the Biology Commission (2011-2013); she was the Secretary of the Romanian Society for Biochemistry and Molecular Biology (2007-2015) and is a Member of the American Society for Microbiology (ASM) (since 2013). She was the Vice-President of the Biology Commission of the National Council for Attesting University Titles, Diplomas and Certificates in Romania (2016-2019).
Dr. Nichita has been a peer reviewer for Autophagy, Antiviral Research, Current HIV Research, DNA and Cell Biology, Gene, Hepatology, Journal of Cellular and Molecular Medicine, Journal of Gastroenterology and Hepatology, Liver International, Molecules, Melanoma Research, Molecular Biology Reports, PlosOne, Proteome Science, Trends in Biotechnology, Virology, etc.

Dr. Nichita has supervised 7 PhD thesis (5 defended, 2 in process); Published ISI Papers > 45 with a cumulated impact factor >160 and > 1200 citations (ISI Web of Knowledge). She published 2 Book chapters and has 2 International patents (H-index 22).
Papers
. CLASS II PHOSPHATIDYLINOSITOL 3-KINASE 2ß IS A NOVEL TARGET FOR THE POTENTIAL DEVELOPMENT OF ANTIVIRAL DRUGS AGAINST THE HEPATITIS B VIRUS. Farmacia, 2022, 70(2):266-271.IF=1.40
. Hepatitis C virus E2 envelope glycoprotein produced in Nicotiana benthamiana triggers humoral response with virus-neutralizing activity in vaccinated mice. Plant Biotechnology Journal, 2021:1-13.IF=13.20
. Mechanisms and Pharmaceutical Action of Lipid Nanoformulation of Natural Bioactive Compounds as Efficient Delivery Systems in the Therapy of Osteoarthritis. Pharmaceutics, 2021, 8(13):1108.IF=6.32
. Long-Term Longitudinal Evaluation of Six Commercial Immunoassays for the Detection of IgM and IgG Antibodies against SARS CoV-2. Viruses, 2021, 6(13):1244.IF=5.00
. Challenges and Prospects of Plant-Derived Oral Vaccines against Hepatitis B and C Viruses. Plants, 2021, 10(10):1-17.IF=4.60
. Comparative Analysis of Hepatitis C Virus NS5A Dynamics and Localization in Assembly-Deficient Mutants. Pathogens (Basel, Switzerland), 2021, 10(2).IF=3.49
. N-Glycosylation and N-Glycan Processing in HBV Biology and Pathogenesis. Cells, 2020, 6(9).IF=5.60
. A polycarboxylic chelating ligand for efficient resin purification of His-tagged proteins expressed in mammalian systems. RSC Advances, 2020(10):23931–23935.IF=3.04
. Production of Chimeric Hepatitis B Virus Surface Antigens in Mammalian Cells. Methods in Molecular Biology, Blaine Pfeifer and Andrew Hill (eds.). Springer Science., 2020, 2183(Vaccine Delivery Technology: Methods and Protocols).
. Targeting TRAIL. Bioorg Med Chem Lett, 2019, 18(29):2527-2534.IF=2.45
. Oral administration of a chimeric Hepatitis B Virus S/preS1 antigen produced in lettuce triggers infection neutralizing antibodies in mice. Vaccine, 2018, 36(38):5789-5795.IF=3.27
. N-Glycosylation and N-Glycan Processing in HBV Biology and Pathogenesis. Cells, 2017, 6(9):https://doi.org/10.3390/cells9061404.IF=5.60
. Development of a DsRed-expressing HepaRG cell line for real-time monitoring of hepatocyte-like cell differentiation by fluorescence imaging, with application in screening of novel geometric microstructured cell growth substrates. Biomedical microdevices, 2017, 19(1):3.IF=2.08
. Novel replicons and trans-encapsidation systems for Hepatitis C Virus proteins live imaging and virus-host interaction proteomics. Journal of virological methods, 2017, 246:42-50.
. Lettuce-produced hepatitis C virus E1E2 heterodimer triggers immune responses in mice and antibody production after oral vaccination. Plant biotechnology journal, 2017, 15(12):1611-1621.
. Novel function of the endoplasmic reticulum degradation-enhancing α-mannosidase-like proteins in the human hepatitis B virus life cycle, mediated by the middle envelope protein. Cellular microbiology, 2017, 19(2).
. Recent advances in human viruses imaging studies. Journal of basic microbiology, 2016, 56(6):591-607.
. Characterization of the anti-HBV activity of HLP1-23, a human lactoferrin-derived peptide. Journal of medical virology, 2013, 85(5):780-8.IF=2.22
. Activation of ERAD pathway by human hepatitis B virus modulates viral and subviral particle production. PloS one, 2012, 7(3):e34169.IF=3.73
. Endocytosis and trafficking of human lactoferrin in macrophage-like human THP-1 cells (1). Biochemistry and cell biology = Biochimie et biologie cellulaire, 2012, 90(3):449-55.IF=2.92
. Polyunsaturated liposomes are antiviral against hepatitis B and C viruses and HIV by decreasing cholesterol levels in infected cells. Proc Natl Acad Sci U S A., 2008, 104(40):17176-81.IF=9.50
. Antiviral activity of lactoferrin against bovine viral diarrhea virus. Romanian Jornal of Biochemistry, 2005(42):21-29.
. N-glycosylation processing and glycoprotein folding-lessons from the tyrosinase-related proteins. Chemical reviews, 2000, 100(12):4697-712.
. Tyrosinase and glycoprotein folding: roles of chaperones that recognize glycans. Biochemistry, 2000, 39(18):5229-37.
. Mutations at critical N-glycosylation sites reduce tyrosinase activity by altering folding and quality control. The Journal of biological chemistry, 2000, 275(11):8169-75.
. Investigation of the intracellular transport of tyrosinase and tyrosinase related protein (TRP)-1. The effect of endoplasmic reticulum (ER)-glucosidases inhibition. Cellular and molecular biology (Noisy-le-Grand, France), 1999, 45(7):1001-10.
. Protein specific N-glycosylation of tyrosinase and tyrosinase-related protein-1 in B16 mouse melanoma cells. The Biochemical journal, 1999, 344 Pt 3:659-65.
View all papers