Laurentiu Spiridon, Dr.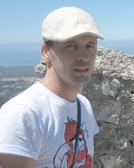 Biography
Laurentiu Spiridon is a researcher in the Institute of Biochemistry of the Romanian Academy. Laurentiu is currently working in Systems Biology of Aging, Bioinformatics & Structural Biochemistry in the Bioinformatics & Structural Biochemistry.
Papers
. "NLRscape: an atlas of plant NLR proteins", Nucleic Acids Res., (2022)
IF: 19.16AI: 5.51
. "Effective Use of Empirical Data for Virtual Screening against APJR GPCR Receptor", Molecules (Basel, Switzerland) 26(16), (2021)
IF: 4.41AI: 0.60
. "Robosample: A Rigid-Body Molecular Simulation Program Based on Robot Mechanics", Biochimica Biophysica Acta General Subjects 1864(8): 129616, (2020)
IF: 3.68AI: 1.40
. "LRRpredictor-A New LRR Motif Detection Method for Irregular Motifs of Plant NLR Proteins Using an Ensemble of Classifiers", Genes (Basel) 11(3): 286, (2020)
IF: 3.33
. "Random Mutagenesis of the Nucleotide-Binding Domain of NRC1 (NB-LRR Required for Hypersensitive Response-Associated Cell Death-1), a Downstream Signalling Nucleotide-Binding, Leucine-Rich Repeat (NB-LRR) Protein, Identifies Gain-Of-Function Mutations in the Nucleotide-Binding Pocket", New Phytologist 208(1): 210-223, (2015)
IF: 7.43AI: 2.50
. "Three-dimensional Modeling and Diversity Analysis Reveals Distinct AVR Recognition Sites and Evolutionary Pathways in Wild and Domesticated Wheat Pm3 R Genes", Molecular Plant Microbe Interactions 27(8): 835-845, (2014)
IF: 3.94AI: 1.30
. "RAG and HMGB1 create a large bend in the 23RSS in the V(D)J recombination synaptic complexes", Nucleic Acids Research 41(4): 2437-2454, (2013)
IF: 8.81AI: 3.40
. "Structural determinants at the interface of the ARC2 and leucine-rich repeat domains control the activation of the plant immune receptors Rx1 and Gpa2", Plant Physiology 162(3): 1510‐1528, (2013)
IF: 7.39AI: 2.40
. "Ancient Diversity of Splicing Motifs and Protein Surfaces in the Wild Emmer Wheat (Triticum Dicoccoides) LR10 Coiled Coil (CC) and Leucine-Rich Repeat (LRR) Domains", Molecular Plant Pathology 13(3): 276‐287, (2012)
IF: 4.49AI: 1.30
. "Coiled-coil domain-dependent homodimerization of intracellular barley immune receptors defines a minimal functional module for triggering cell death", Cell Host Microbe 9(3): 187‐199, (2011)
IF: 13.50AI: 7.00
. "Nucleocytoplasmic Distribution Is Required for Activation of Resistance by the Potato NB-LRR Receptor Rx1 and Is Balanced by Its Functional Domains", Plant Cell 22(12): 4195‐4215, (2010)
IF: 9.40AI: 4.00
. "Structural Assessment of Glycosylation Sites Database - SAGS – An Overall View on N-Glycosylation", pp 3-20, Glycosilation, InTech, (2012).
ISBN: 978-953-51-0771-2
View all papers
Grants
Gerontomics: Multi-omics prediction system for prioritization of gerontological interventions
2016-2021
Acronym: Gerontomics
Project director: Robi Tacutu
Starting 02.09.2016, the Institute of Biochemistry of the Romanian Academy is implementing the project "Multi-omics prediction system for prioritization of gerontological interventions", co-funded through European Fund for Regional Development, in accordance with the funding contract signed by the Ministry of National Education and Scientific Research. The total funding for the project is 8.524.757,50 lei, of which 8.502.557,50 lei represent non-reimbursable funding. The project's duration is 48 months.
High-throughput screening platform for small-molecules with anti-inflammatory potential
2020-2022
Acronym: HTS-IL-1β
Budget: 600.000 RON
Project director: Marioara Chiritoiu-Butnaru
This project aims to develop a sensitive high-throughput screening platform by generating an endogenously tagged interleukin-1β reporter cell line by CRISPR-Cas9 technology, able to monitor stimulated IL-1β secretion with the purpose to identify new chemical compounds with anti-inflammatory activity that will be validated in primary macrophages and a mouse model for sepsis.