Andrei-José Petrescu, Dr.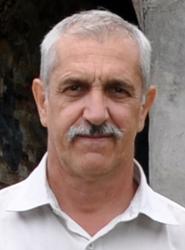 Biography
Andrei heads the Department of Bioinformatics, He developed computational assisted work relevant in many fields of molecular life sciences reflected by a large web of collaborations with groups from Oxford, Yale, Berkeley and many other advanced research centers.
Papers
. Structure-function analysis of ZAR1 immune receptor reveals key molecular interactions for activity. The Plant journal: for cell and molecular biology, 2020, 101(2): 352-370IF=5.70
. Robosample: A Rigid-Body Molecular Simulation Program Based on Robot Mechanics. Biochimica Biophysica Acta General Subjects, 2020, 1864(8): 129616IF=3.68
. Identification of RAG-like transposons in protostomes suggests their ancient bilaterian origin. Mobile DNA, 2020, 11: 17IF=3.63
. LRRpredictor-A New LRR Motif Detection Method for Irregular Motifs of Plant NLR Proteins Using an Ensemble of Classifiers. Genes (Basel), 2020, 11(3): 286IF=3.33
. Transposon molecular domestication and the evolution of the RAG recombinase. Nature, 2019, 569(7754): 79-84IF=43.07
. The Design of New HIV-IN Tethered Bifunctional Inhibitors using Multiple Microdomain Targeted Docking. Current medicinal chemistry, 2019, 26(15): 2574-2600IF=3.89
. Gangliosidome of human anencephaly: A high resolution multistage mass spectrometry study. Biochimie, 2019, 163: 142-151IF=3.36
. Profiling Optimal Conditions for Capturing EDEM Proteins Complexes in Melanoma Using Mass Spectrometry. Advances in experimental medicine and biology, 2019, 1140: 155-167IF=2.13
. Human caudate nucleus exhibits a highly complex ganglioside pattern as revealed by high-resolution multistage Orbitrap MS. Journal of Carbohydrate Chemistry, 2019, 38(9)IF=0.80
. Clonal lineage of high grade serous ovarian cancer in a patient with neurofibromatosis type 1. Gynecologic Oncology Reports, 2018, 23: 41-44
. Genome-wide functional analyses of plant coiled-coil NLR-type pathogen receptors reveal essential roles of their N-terminal domain in oligomerization, networking, and immunity. PLoS biology, 2018, 16(12): e2005821IF=8.39
. Distinct Roles of Non-Overlapping Surface Regions of the Coiled-Coil Domain in the Potato Immune Receptor Rx1. Plant physiology, 2018, 178(3): 1310-1331IF=6.30
. Heavy metal accumulation by Saccharomyces cerevisiae cells armed with metal binding hexapeptides targeted to the inner face of the plasma membrane. Applied microbiology and biotechnology, 2017, 101(14): 5749-5763IF=3.67
. Inhibition of N-glycan processing modulates the network of EDEM3 interactors. Biochemical and biophysical research communications, 2017, 486(4): 978-984IF=2.56
. Roles of the C-terminal domains of topoisomerase IIα and topoisomerase IIβ in regulation of the decatenation checkpoint. Nucleic acids research, 2017, 45(10): 5995-6010IF=11.56
. Cell death triggering and effector recognition by Sw-5 SD-CNL proteins from resistant and susceptible tomato isolines to Tomato spotted wilt virus. Molecular plant pathology, 2016, 17(9): 1442-1454IF=4.70
. An LRR/Malectin Receptor-Like Kinase Mediates Resistance to Non-adapted and Adapted Powdery Mildew Fungi in Barley and Wheat. Front Plant Sci, 2016, 7IF=4.30
. SPRYSEC Effectors: A Versatile Protein-Binding Platform to Disrupt Plant Innate Immunity. Frontiers in plant science, 2016, 7: 1575IF=4.30
. The architecture of the 12RSS in V(D)J recombination signal and synaptic complexes. Nucleic Acids Research, 2015, 43(2): 917-931IF=9.20
. Random Mutagenesis of the Nucleotide-Binding Domain of NRC1 (NB-LRR Required for Hypersensitive Response-Associated Cell Death-1), a Downstream Signalling Nucleotide-Binding, Leucine-Rich Repeat (NB-LRR) Protein, Identifies Gain-Of-Function Mutations in the Nucleotide-Binding Pocket. New Phytologist, 2015, 208(1): 210-223IF=7.43
. Mapping and Quantitation of the Interaction between the Recombination Activating Gene Proteins RAG1 and RAG2. Journal of Biological Chemistry, 2015, 290(19): 11802‐11817IF=4.26
. Identification and structural characterization of novel O- and N-glycoforms in the urine of a Schindler disease patient by Orbitrap mass spectrometry. Journal of Mass Spectrometry, 2015, 50(9): 1044‐1056IF=2.54
. Three-dimensional Modeling and Diversity Analysis Reveals Distinct AVR Recognition Sites and Evolutionary Pathways in Wild and Domesticated Wheat Pm3 R Genes. Molecular Plant Microbe Interactions, 2014, 27(8): 835-845IF=3.94
. RAG and HMGB1 create a large bend in the 23RSS in the V(D)J recombination synaptic complexes. Nucleic Acids Research, 2013, 41(4): 2437-2454IF=8.81
. Structural determinants at the interface of the ARC2 and leucine-rich repeat domains control the activation of the plant immune receptors Rx1 and Gpa2. Plant Physiology, 2013, 162(3): 1510‐1528IF=7.39
. Identification of an unusually sulfated tetrasaccharide chondroitin/dermatan motif in mouse brain by combining chip-nanoelectrospray multistage MS2 -MS4 and high resolution MS. Electrophoresis, 2013, 34(11): 1581‐1592IF=3.16
. Ancient Diversity of Splicing Motifs and Protein Surfaces in the Wild Emmer Wheat (Triticum Dicoccoides) LR10 Coiled Coil (CC) and Leucine-Rich Repeat (LRR) Domains. Molecular Plant Pathology, 2012, 13(3): 276‐287IF=4.49
. Tyrosine 656 in Topoisomerase IIβ Is Important for the Catalytic Activity of the Enzyme: Identification Based on Artifactual +80-Da Modification at This Site. Proteomics, 2011, 11(5): 829‐842IF=4.50
. C-terminus glycans with critical functional role in the maturation of secretory glycoproteins. PloS one, 2011, 6(5): e19979IF=4.09
. Coiled-coil domain-dependent homodimerization of intracellular barley immune receptors defines a minimal functional module for triggering cell death. Cell Host Microbe, 2011, 9(3): 187‐199IF=13.50
. Nucleocytoplasmic Distribution Is Required for Activation of Resistance by the Potato NB-LRR Receptor Rx1 and Is Balanced by Its Functional Domains. Plant Cell, 2010, 22(12): 4195‐4215IF=9.40
View all papers
Grants
Structure Assisted Investigation of Critical Protein Families Involved in Plant Immunity
2017-2019
Acronym: STRASSIST
Project director: Andrei-José Petrescu
This project aims to address a number of structural aspects related to key elements of the plant immune system and its pathogen interactors using a combined approach intricating experimental and computational steps. To this end we intend to build on our previous results in the field and further develop experimental, bioinformatics and molecular modeling methods appropriate for solving the specific problems implied by this proposal.