Gabriela Bunu, Mrs.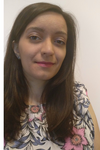 Biography
Gabriela is a bioinformatics researcher at the Institute of Biochemistry, focussing on curation for aging-related data, analysis of large screen datasets and network-based analyses. She has a multidisciplinary background, having studied for two B.Sc. in parallel: computer science at the University of Bucharest and Pharmacy at the "Carol Davila" University of Medicine and Pharmacy.

Gabriela is currently following a residency programme in Pharmacy and is interested in pharmaco-genomics, and its applications to gerontology. Her passion for gerontology has started during her undergrad years, when she studied the oxidative stress biomarkers in hypertension in the elderly, as part of her graduation project at the National Institute of Gerontology and Geriatrics "Ana Aslan" in Bucharest.
Papers
. Silencing the Cytoskeleton Protein Iba1 (Ionized Calcium Binding Adapter Protein 1) Interferes with BV2 Microglia Functioning. Cellular and molecular neurobiology, 2020IF=3.80
. Robosample: A Rigid-Body Molecular Simulation Program Based on Robot Mechanics. Biochimica Biophysica Acta General Subjects, 2020, 1864(8): 129616IF=3.68
. LRRpredictor-A New LRR Motif Detection Method for Irregular Motifs of Plant NLR Proteins Using an Ensemble of Classifiers. Genes (Basel), 2020, 11(3): 286IF=3.33
. A polycarboxylic chelating ligand for efficient resin purification of His-tagged proteins expressed in mammalian systems. RSC Advances, 2020(10): 23931–23935IF=3.04
. Biological and molecular modifications induced by cadmium and arsenic during breast and prostate cancer development. Environ Res, 2019, 178: 108700IF=5.03
. Analysis of EYA3 Phosphorylation by Src Kinase Identifies Residues Involved in Cell Proliferation. International Journal of Molecular Sciences, 2019, 20(24): 6307IF=4.18
. A novel adaptive fluorescent probe for cell labelling. Bioorg Chem., 2019(92): 103295IF=3.93
. Crystal structure of a xylulose 5-phosphate phosphoketolase. Insights into the substrate specificity for xylulose 5-phosphate. Journal of Structural Biology, 2019, 207(1): 85-102IF=3.75
. Profiling Optimal Conditions for Capturing EDEM Proteins Complexes in Melanoma Using Mass Spectrometry. Advances in experimental medicine and biology, 2019, 1140: 155-167IF=2.13
. Regulation of TRPM8 channel activity by Src-mediated tyrosine phosphorylation. Journal of Cellular Physiology, 2019
. Random Mutagenesis of the Nucleotide-Binding Domain of NRC1 (NB-LRR Required for Hypersensitive Response-Associated Cell Death-1), a Downstream Signalling Nucleotide-Binding, Leucine-Rich Repeat (NB-LRR) Protein, Identifies Gain-Of-Function Mutations in the Nucleotide-Binding Pocket. New Phytologist, 2015, 208(1): 210-223IF=7.43
. COMBINING HETEROLOGOUS BACTERIAL EXPRESSION SYSTEM WITH AFFINITY CHROMATOGRAPHY PURIFICATION TO OBTAIN NATIVE MOUSE TYROSINASE. Farmacia, 2015, 2(63): 254-261IF=1.16
. Three-dimensional Modeling and Diversity Analysis Reveals Distinct AVR Recognition Sites and Evolutionary Pathways in Wild and Domesticated Wheat Pm3 R Genes. Molecular Plant Microbe Interactions, 2014, 27(8): 835-845IF=3.94
. Characterization of functional transient receptor potential melastatin 8 channels in human pancreatic ductal adenocarcinoma cells. Pancreas, 2014, 43(5): 795-800IF=2.96
. RAG and HMGB1 create a large bend in the 23RSS in the V(D)J recombination synaptic complexes. Nucleic Acids Research, 2013, 41(4): 2437-2454IF=8.81
. Structural determinants at the interface of the ARC2 and leucine-rich repeat domains control the activation of the plant immune receptors Rx1 and Gpa2. Plant Physiology, 2013, 162(3): 1510‐1528IF=7.39
. Ancient Diversity of Splicing Motifs and Protein Surfaces in the Wild Emmer Wheat (Triticum Dicoccoides) LR10 Coiled Coil (CC) and Leucine-Rich Repeat (LRR) Domains. Molecular Plant Pathology, 2012, 13(3): 276‐287IF=4.49
. Coiled-coil domain-dependent homodimerization of intracellular barley immune receptors defines a minimal functional module for triggering cell death. Cell Host Microbe, 2011, 9(3): 187‐199IF=13.50
. Nucleocytoplasmic Distribution Is Required for Activation of Resistance by the Potato NB-LRR Receptor Rx1 and Is Balanced by Its Functional Domains. Plant Cell, 2010, 22(12): 4195‐4215IF=9.40
View all papers
Grants
Gerontomics: Multi-omics prediction system for prioritization of gerontological interventions
2016-2021
Acronym: Gerontomics
Project director: Robi Tacutu
Starting 02.09.2016, the Institute of Biochemistry of the Romanian Academy is implementing the project "Multi-omics prediction system for prioritization of gerontological interventions", co-funded through European Fund for Regional Development, in accordance with the funding contract signed by the Ministry of National Education and Scientific Research. The total funding for the project is 8.524.757,50 lei, of which 8.502.557,50 lei represent non-reimbursable funding. The project's duration is 48 months.