Alexandra Voinea, Mrs.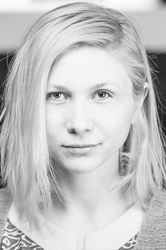 Biography
Alexandra is a bioinformatics researcher at the Institute of Biochemistry, focussing on developing large screen analysis pipelines and automated tools for data and dataset annotation. She is also a PHD candidate at University Politehnica of Bucharest and her thesis is based on the usage of Virtual Reality in Learning and Healthcare.

Alexandra has a multidisciplinary background in computer science and medical engineering. She has studied computer science as a B.Sc. student at the University of Bucharest and has a M.Sc. in Medical Engineering from the University Politehnica of Bucharest.

Before becoming a bioinformatics researcher and joining our group, she has accumulated extensive experience in software development (>8 years), previously being the Technical Director at Electronics Arts, and has carried out biomedical research, working on Neuroimagistics for Alzheimer patients and Neuromotor rehabilitation solutions for stroke survivors' patients.
Papers
Grants
Gerontomics: Multi-omics prediction system for prioritization of gerontological interventions
2016-2021
Acronym: Gerontomics
Project director: Robi Tacutu
Members: Alexandra Voinea, Anton Yurievich Kulaga, Dan Mihaila, Vlad Constantinescu, Gabriela Bunu, Robi Tacutu, Ioan Valentin Matei, Constantina Filipciuc, Catalin-Florentin Ion
Starting 02.09.2016, the Institute of Biochemistry of the Romanian Academy is implementing the project "Multi-omics prediction system for prioritization of gerontological interventions", co-funded through European Fund for Regional Development, in accordance with the funding contract signed by the Ministry of National Education and Scientific Research. The total funding for the project is 8.524.757,50 lei, of which 8.502.557,50 lei represent non-reimbursable funding. The project's duration is 48 months.