Mari Chiritoiu, Dr.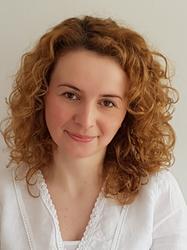 Department:
Molecular Cell Biology
Senior Reseacher III
Research interests: Membrane trafficking, Inflammation, Neurodegeneration
Biography
Mari Chiritoiu graduated from Faculty of Chemistry, University of Bucharest (2004-2008) and received her Ph.D. in Biology from the Institute of Biochemistry of the Romanian Academy in 2014, under the supervision of dr. Stefana Petrescu. She was a posdoctoral fellow in the lab of prof. Vivek Malhotra, at CRG-Centre for Genomic Regulation, Barcelona, Spain (2016-2019) where she investigated the process of unconventional protein secretion using as model cargo the pro-inflammatory cytokine interleukin-1β.
In the future, dr. Chiritoiu aims to understand key aspects of the molecular mechanism of leaderless protein export, such as interleukin-1β and α-synuclein, related to inflammation and neurodegeneration.
Grants