Andrei-José Petrescu, Dr.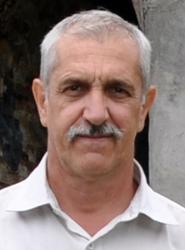 Biography
Andrei-José Petrescu is a researcher in the Institute of Biochemistry of the Romanian Academy. Andrei-José is currently working in Bioinformatics & Structural Biochemistry in the Bioinformatics & Structural Biochemistry.
Papers
Clonal lineage of high grade serous ovarian cancer in a patient with neurofibromatosis type 1(Gynecologic Oncology Reports), 2018

Eric Norris, Wendell D. Jones, Marius D. Surleac, Andrei José Petrescu, Darla D Destephanis, Qing Zhang, Issam S. Hamadeh, Jeffrey S. Kneisl, Chad Livasy, Ram N. Ganapathi, David L. Tait, Mahrukh K. Ganapathi

Genome-wide functional analyses of plant coiled-coil NLR-type pathogen receptors reveal essential roles of their N-terminal domain in oligomerization, networking, and immunity., PLoS biology, 16(12), e2005821, 2018

Wróblewski T, Spiridon L, Martin EC, Petrescu AJ, Cavanaugh K, Truco MJ, Xu H, Gozdowski D, Pawłowski K, Michelmore RW, Takken FLW

Distinct Roles of Non-Overlapping Surface Regions of the Coiled-Coil Domain in the Potato Immune Receptor Rx1., Plant physiology, 178(3), 1310-1331, 2018

Slootweg EJ, Spiridon LN, Martin EC, Tameling WIL, Townsend PD, Pomp R, Roosien J, Drawska O, Sukarta OCA, Schots A, Borst JW, Joosten MHAJ, Bakker J, Smant G, Cann MJ, Petrescu AJ, Goverse A

The Design of New HIV-IN Tethered Bifunctional Inhibitors using Multiple Microdomain Targeted Docking., Current medicinal chemistry, 2018

Ciubotaru M, Musat MG, Surleac M, Ionita E, Petrescu AJ, Abele E, Abele R

Heavy metal accumulation by Saccharomyces cerevisiae cells armed with metal binding hexapeptides targeted to the inner face of the plasma membrane., Applied microbiology and biotechnology, 101(14), 5749-5763, 2017

Ruta LL, Kissen R, Nicolau I, Neagoe AD, Petrescu AJ, Bones AM, Farcasanu IC

Roles of the C-terminal domains of topoisomerase IIα and topoisomerase IIβ in regulation of the decatenation checkpoint., Nucleic acids research, 45(10), 5995-6010, 2017

Kozuki T, Chikamori K, Surleac MD, Micluta MA, Petrescu AJ, Norris EJ, Elson P, Hoeltge GA, Grabowski DR, Porter ACG, Ganapathi RN, Ganapathi MK

Inhibition of N-glycan processing modulates the network of EDEM3 interactors., Biochemical and biophysical research communications, 486(4), 978-984, 2017

Butnaru CM, Chiritoiu MB, Chiritoiu GN, Petrescu SM, Petrescu AJ

An LRR/Malectin Receptor-Like Kinase Mediates Resistance to Non-adapted and Adapted Powdery Mildew Fungi in Barley and Wheat(Front Plant Sci), 2016

Jeyaraman Rajaraman, Dimitar Douchkov, Götz Hensel, Francesca L. Stefanato, Anna Gordon, Nelzo Ereful, Octav F. Caldararu, Andrei-Jose Petrescu, Jochen Kumlehn, Lesley A. Boyd, Patrick Schweizer

SPRYSEC Effectors: A Versatile Protein-Binding Platform to Disrupt Plant Innate Immunity., Frontiers in plant science, 7, 1575, 2016

Diaz-Granados A, Petrescu AJ, Goverse A, Smant G

Cell death triggering and effector recognition by Sw-5 SD-CNL proteins from resistant and susceptible tomato isolines to Tomato spotted wilt virus., Molecular plant pathology, 17(9), 1442-1454, 2016

De Oliveira AS, Koolhaas I, Boiteux LS, Caldararu OF, Petrescu AJ, Oliveira Resende R, Kormelink R
View all papers
Grants
Structure Assisted Investigation of Critical Protein Families Involved in Plant Immunity
2017-2019
Acronym: STRASSIST
Project director: Andrei-José Petrescu
This project aims to address a number of structural aspects related to key elements of the plant immune system and its pathogen interactors using a combined approach intricating experimental and computational steps. To this end we intend to build on our previous results in the field and further develop experimental, bioinformatics and molecular modeling methods appropriate for solving the specific problems implied by this proposal.