Livia Sima, Dr.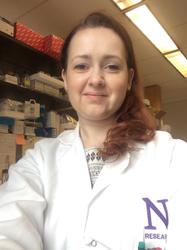 Department:
Molecular Cell Biology
Research Scientist III
Research interests: cancer immune response, cell signaling, stem cells, bio-nano-technologies
Biography
Livia Sima studied biochemistry at the University of Bucharest from where she obtained her bachelor degree in 2003. After graduation she started working at the Institute of Biochemistry where she was accepted to participate in a summer internship programme. Immediately thereafter she joined Stefana Petrescu's group. She was trained in protein folding using tyrosinase as a model protein. In parallel, she continued her master studies in Biochemistry and Molecular Biology at the University of Bucharest. During her PhD training under Dr. Petrescu's supervision, Livia worked on two main directions: 1) molecular characterisation of melanoma cell lines expressing the pro-angiogenic chemokine GCP-2 and 2) in vitro osteogenic differentiation of human bone marrow-derived mesenchymal stem cells onto biomaterials designed for prosthetic applications. She was involved in extensive fluorescence microscopy work and successfully implemented flow cytometry methods in IB-AR. Livia received her PhD in 2011 from the Romanian Academy.
In 2016 she joined Daniela Matei's group at Northwestern University in Chicago, USA. As a Postdoctoral Fellow, she investigated the role of tissue transglutaminase (TG2) in modulating the anti-tumour immune response in mouse models of ovarian cancer and tested small molecule inhibitors targeting TG2-fibronectin interaction. Livia returned to IB-AR in 2018 with a keen interest in investigating context-dependent cell signaling in the tumour microenvironment and developing new methods related to cancer research. She is currently team leader within TERAMED grant: "Integrated development project for advanced medical treatment technologies" (PN-III-P1-1.2-PCCDI-2017-0728).
Livia Sima is the Secretary of the Romanian Society for Biochemistry and Molecular Biology (since 2015), Associate Member of the American Association of Cancer Research (AACR) (since 2017) and Member of the Romanian Cytometry Association (ACR) (since 2011). She was elected Secretary of the Scientific Committee of the Institute of Biochemistry in 2019.
Papers
. Long-Term Evaluation of Dip-Coated PCL-Blend-PEG Coatings in Simulated Conditions. Polymers, 2020, 12(3)IF=3.42
. Small Molecules Target the Interaction between Tissue Transglutaminase and Fibronectin. Molecular Cancer Therapeutics, 2019, 6(18): 1057-1068IF=4.86
. Analysis of EYA3 Phosphorylation by Src Kinase Identifies Residues Involved in Cell Proliferation. International Journal of Molecular Sciences, 2019, 20(24): 6307IF=4.18
. Macrophage in vitro Response on Hybrid Coatings Obtained by Matrix Assisted Pulsed Laser Evaporation. Coatings, 2019(9)IF=2.35
. CRISPR/Cas9 gene editing in Huh7 and Hepa RG cell lines. Romanian Biotechnological Letters, 2019(24): 216-228IF=0.59
. Tissue Tranglutaminase Regulates Interactions between Ovarian Cancer Stem Cells and the Tumor Niche. Cancer research, 2018, 78(11): 2990-3001IF=8.38
. In vitro behavior of human mesenchymal stem cells on poly(N-isopropylacrylamide) based biointerfaces obtained by matrix assisted pulsed laser evaporation. Applied Surface Science, 2018, 440: 712-724IF=5.16
. Physical-chemical characterization and biological assessment of simple and lithium-doped biological-derived hydroxyapatite thin films for a new generation of metallic implants. Applied Surface Science, 2018, 439: 724-735IF=5.15
. Physical-chemical characterization and biological assessment of simple and lithium-doped biological-derived hydroxyapatite thin films for a new generation of metallic implants, 2018(Applied Surface Science)
. Targeting the Microenvironment in High Grade Serous Ovarian Cancer. Cancers, 2018, 10(8)
. Development of a DsRed-expressing HepaRG cell line for real-time monitoring of hepatocyte-like cell differentiation by fluorescence imaging, with application in screening of novel geometric microstructured cell growth substrates. Biomedical microdevices, 2017, 19(1): 3IF=2.08
. Antimicrobial polycaprolactone/polyethylene glycol embedded lysozyme coatings of Ti implants for osteoblast functional properties in tissue engineering. Applied Surface Science, 2017, 417: 234-243
. Biocomposite coatings based on Poly (3-hydroxybutyrate-co-3-hydroxyvalerate)/calcium phosphates obtained by MAPLE for bone tissue engineering. Applied Surface Science, 2017, 417: 204-212
. Modern Technologies for Creating the Thin-Film Systems and Coatings, 2017: 171-191
. Laser deposition of poly(3-hydroxybutyric acid-co-3-hydroxyvaleric acid) - lysozyme microspheres based coatings with anti-microbial properties. International journal of pharmaceutics, 2017, 521(1-2): 184-195
. Lead-Free Piezoelectric (Ba,Ca)(Zr,Ti)O3 Thin Films for Biocompatible and Flexible Devices. ACS applied materials & interfaces, 2017, 9(1): 266-278
. Extracellular Signals for Guiding Mesenchymal Stem Cells Osteogenic Fate. Current stem cell research & therapy, 2017, 12(2): 139-144
. Cross-talk between Dopachrome Tautomerase and Caveolin-1 Is Melanoma Cell Phenotype-specific and Potentially Involved in Tumor Progression. The Journal of biological chemistry, 2016, 291(24): 12481-500IF=4.12
. Cell adhesion response on femtosecond laser initiated liquid assisted silicon surface. Current topics in medicinal chemistry, 2014, 14(5): 624-9IF=3.40
. Value of dopachrome tautomerase detection in the assessment of melanocytic tumors. Melanoma research, 2014, 24(3): 219-36
. MAPLE-based method to obtain biodegradable hybrid polymeric thin films with embedded antitumoral agents. Biomedical microdevices, 2014, 16(1): 11-21
. Isolation method and xeno-free culture conditions influence multipotent differentiation capacity of human Wharton's jelly-derived mesenchymal stem cells. Stem cell research & therapy, 2013, 4(4): 81IF=4.63
. Dermal cells distribution on laser-structured ormosils. Journal of tissue engineering and regenerative medicine, 2013, 7(2): 129-38
. Internalization and intracellular trafficking of poly(propylene imine) glycodendrimers with maltose shell in melanoma cells. Current medicinal chemistry, 2012, 19(29): 4955-68IF=4.07
. AP-3 and Rabip4' coordinately regulate spatial distribution of lysosomes. PloS one, 2012, 7(10): e48142IF=3.73
. Endocytosis and trafficking of human lactoferrin in macrophage-like human THP-1 cells (1). Biochemistry and cell biology = Biochimie et biologie cellulaire, 2012, 90(3): 449-55IF=2.92
. Fibronectin layers by matrix-assisted pulsed laser evaporation from saline buffer-based cryogenic targets. Acta biomaterialia, 2011, 7(10): 3780-8IF=4.87
. Levan nanostructured thin films by MAPLE assembling. Biomacromolecules, 2011, 12(6): 2251-6
. Biocompatibility and bioactivity enhancement of Ce stabilized ZrO(2) doped HA coatings by controlled porosity change of Al(2) O(3) substrates. Journal of biomedical materials research. Part B, Applied biomaterials, 2011, 96(2): 218-24
. Tailoring immobilization of immunoglobulin by excimer laser for biosensor applications. Journal of biomedical materials research. Part A, 2011, 96(2): 384-94
. Differentiation of mesenchymal stem cells onto highly adherent radio frequency-sputtered carbonated hydroxylapatite thin films. Journal of biomedical materials research. Part A, 2010, 95(4): 1203-14IF=3.04
. Liposomalization of lactoferrin enhanced its anti-tumoral effects on melanoma cells. Biometals : an international journal on the role of metal ions in biology, biochemistry, and medicine, 2010, 23(3): 485-92
. Specific biofunctional performances of the hydroxyapatite-sodium maleate copolymer hybrid coating nanostructures evaluated by in vitro studies. Journal of materials science. Materials in medicine, 2009, 20(11): 2305-16
Proteomics Technologies and Applications in Mass Spectrometry for Cancer Biomarkers, 2019(5), InTechOpen: 477
View all papers
Grants