Livia Sima, Dr.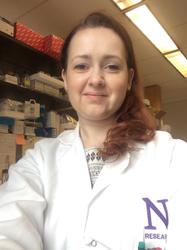 Department:
Molecular Cell Biology
Research Scientist II
Research interests: cancer immune response, cell signaling, stem cells, bio-nano-technologies
Currently working on
Studying the role of tissue transglutaminase (TG2) in the context of tumor microenvironment and its therapeutic targeting in ovarian cancer
Therapeutic targeting of melanoma cells using nanoparticles as drug delivery vechicles
Modulation of mesenchymal stem cells osteogenic differentiation by extracellular phisico-chemical stimuli (biomaterials, simulated microgravity, growth factors)

Results that stand as premises to my current TG2 research were presented at the STOP CANCER meeting in 2019 (in Romanian): https://youtu.be/r8kcAXT2jEc

An article highlighting our work on graphene was recently published in issue 117 of Research Outreach at page 38: http://cdn.researchoutreach.org/Flipbooks/RO117/index.html; https://researchoutreach.org/articles/targeting-melanoma-cells-drug-infused-graphene-matrix/
Biography
Livia Sima studied biochemistry at the University of Bucharest from where she obtained her bachelor degree in 2003. After graduation she started working at the Institute of Biochemistry where she was accepted to participate in a summer internship programme. Immediately thereafter she joined Stefana Petrescu's group. She was trained in protein folding using tyrosinase as a model protein. In parallel, she continued her master studies in Biochemistry and Molecular Biology at the University of Bucharest. During her PhD training under Dr. Petrescu's supervision, Livia worked on two main directions: 1) molecular characterisation of melanoma cell lines expressing the pro-angiogenic chemokine GCP-2 and 2) in vitro osteogenic differentiation of human bone marrow-derived mesenchymal stem cells onto biomaterials designed for prosthetic applications. She was involved in extensive fluorescence microscopy work and successfully implemented flow cytometry methods in IB-AR. Livia received her PhD degree in 2012 from the Romanian Academy.
In 2016 she joined Daniela Matei's group at Northwestern University in Chicago, USA. As a Postdoctoral Fellow, she investigated the role of tissue transglutaminase (TG2) in modulating the anti-tumour immune response in mouse models of ovarian cancer and tested small molecule inhibitors targeting TG2-fibronectin interaction. Livia returned to IB-AR in 2018 with a keen interest in investigating context-dependent cell signaling in the tumour microenvironment and developing new methods related to cancer research. She is currently team leader within TERAMED grant: "Integrated development project for advanced medical treatment technologies" (PN-III-P1-1.2-PCCDI-2017-0728) and principal investigator of the TG2TARGET (PN-III-P1-1.1-TE- 2019-0670) and TG2THERAPY (PN-III-P2-2.1-PED- 2019-1543) research grants.
Livia Sima is the Secretary of the Romanian Society for Biochemistry and Molecular Biology (since 2015), Associate Member of the American Association of Cancer Research (AACR) (since 2017) and Member of the Romanian Cytometry Association (ACR) (since 2011). She was elected Secretary of the Scientific Committee of the Institute of Biochemistry in 2019.
Grants
Role of TG2 in cancer tumor microenvironment for guiding metastasis prevention therapeutic approaches
2020-2022
Acronym: TG2TARGET
Budget: 431,900 RON
Project director: Livia Sima
The overall goal of the current project is to understand the impact of tissue transglutaminase (TG2) targeting in the context of ovarian cancer (OC) tumor microenvironment (TME). Our aproach is aimed at testing the hypothesis that interventions in targeting TG2 in the OC TME will disrupt pro-tumorigenic signaling cross-talk within tumors.